Book your waste oil collection today
Parts Washers
An effective cleaning solution for engineering, automotive and general machine parts
Clean solvent at the press of a button
Minimal servicing required
Fully supported by our dedicated engineers
Slicker's Lean Mean Cleaning Machine!
Our parts washers can effectively clean oil, grease and other contaminants from various components, but what really makes our machines unique is that they can clean their own solvent! The self-contained micro-refinery found within our machines keeps the solvent clean upon demand, meaning cost savings on solvent replacement and maintenance.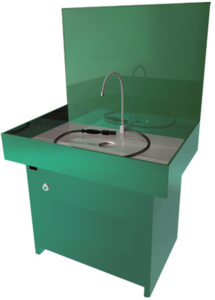 Wash Function
Our parts washers come with a "flow-thru" brush and hose which allows you to clean all of your machine parts thoroughly. There is also a rinse/soak spigot which allows you to remove any excess contaminants. The wash area can support heavy items, and ensures that dirty fluids are drained away.
Recycling Function
At the touch of a button, the dirty solvent is drained away and replaced with clean solvent. The dirty fluid is then processed through the internal micro-refinery. Once the solvent has been processed, it is ready to be used again – all that is required is an occasional solvent top-up when necessary. Unlike other parts washers, the waste from our machine is minimal and can be placed into existing waste oil storage, cutting down on costs to have it removed separately.
Safe Operation
Unlike traditional "sink on drum" designs, our parts washers have been designed specifically with safety in mind; with the sturdy base minimising the risk of toppling over and causing injury.
Suitable for a Wide Range of Industries
Our parts washers are extremely versatile and have been proven to meet the needs of both smaller independent businesses and large multi-site companies, in a wide range of industry sectors.
Want to find out more about our parts washers? Simply get in touch with us today, and our expert team will be happy to answer any questions you may have.