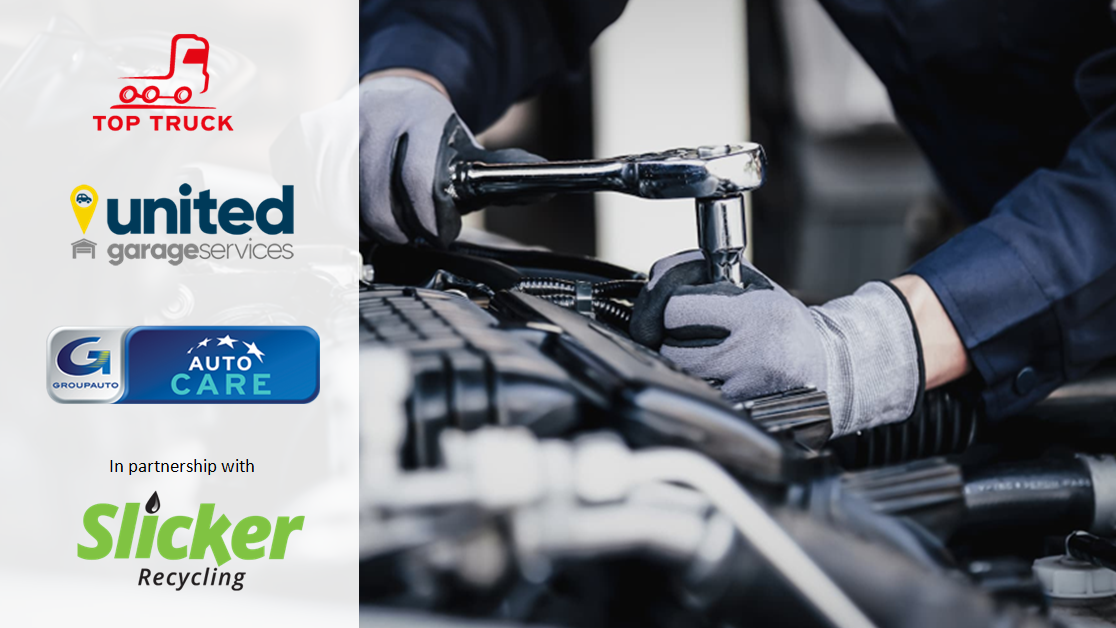 Slicker are delighted to announce their new partnership with the 3 independent garage networks available through GROUPAUTO and UAN Trading groups, with a combined total of over 1200 network members, the partnership offers a huge savings opportunity to the network, as well helping them minimise their carbon footprint.
Sustainability-focused waste management provider, Slicker Recycling, will be working closely with GroupAuto and UAN's premium garage networks, including AutoCare, Top Truck and United Garage Services, to support their 1,200 members save money on waste management and minimise their carbon footprint. Garage Members will receive a comprehensive waste management service under one roof, at industry-leading rates, exclusive to Garage network members. Not only this, but thanks to Slicker's innovative waste oil to base oil re-refining process, garage members will also reduce their environmental impact and cut their carbon footprint by over 37%.
Comprehensive service at industry-leading rates
Slicker aim to take the headache of waste management away by providing a one-stop-shop service. In addition to waste oil collections, Slicker provides a sustainable service for other hazardous waste streams, including oil filters, antifreeze and contaminated packaging, minimising the number of suppliers, the AutoCare, United Garage Services and Top Truck garage network members need to juggle. Thanks to the collective buying power of GroupAuto and UAN's garage networks, Slicker Recycling offers members industry-leading rates, helping them reduce their workshop waste spend as much as 48%!
Carbon Crushing
Each year the AutoCare, United Garage Services and Top Truck garage network members collectively generate approximately 3 million litres of used oil, enough to fill an Olympic-sized swimming pool! Thanks to Slicker' s state-of-the-art re-refinery, the used oil generated is handled sustainably. At Slicker's facility, the used oil is re-refined back into a reusable, high-quality, base oil product. This product is used as the main building block in the production of brand-new lubricating oils, reducing the need to drill for virgin crude oil.
By simply switching to Slicker Recycling as their collection provider, the AutoCare, United Garage Services and Top Truck members can easily make a huge dent in their collective carbon footprint. The base oil re-refining technique Slicker practices is by far the most carbon-efficient technique of processing used oil, equating to 552 metric tonnes of CO2 saved each year, the same annual carbon absorption of 22,000 trees!
Not only this, but Slicker's sustainable, circular approach also prevents the valuable, finite resource from being burnt as a carbon-emitting Processed Fuel Oil (PFO) in the marine and energy markets, a practice that is unfortunately still widely conducted across the waste oil industry.
Maria McCullough, Garage Networks Manager, has stated,
"Providing the best value for your membership network is at the centre of what we do. Thanks to our partnership with Slicker Recycling, we now offer our members huge savings on their workshop waste they would not find anywhere else. Not only this but thanks to Slicker's eco-friendly approach, our members can simply and easily reduce their carbon footprint, minimising their impact on the environment. It's a win-win situation!"
Sean Thorpe, National Sales Manager at Slicker Recycling has commented,
"We are delighted to support the AutoCare, United Garage Services and Top Truck networks. Through our partnership we will help their members make a real impact in terms of financial savings and cutting carbon."
For more information on our sustainable waste oil and workshop waste service, contact our expert team today on 0330 159 8325 or email, customerservices@slickerrecycling.com