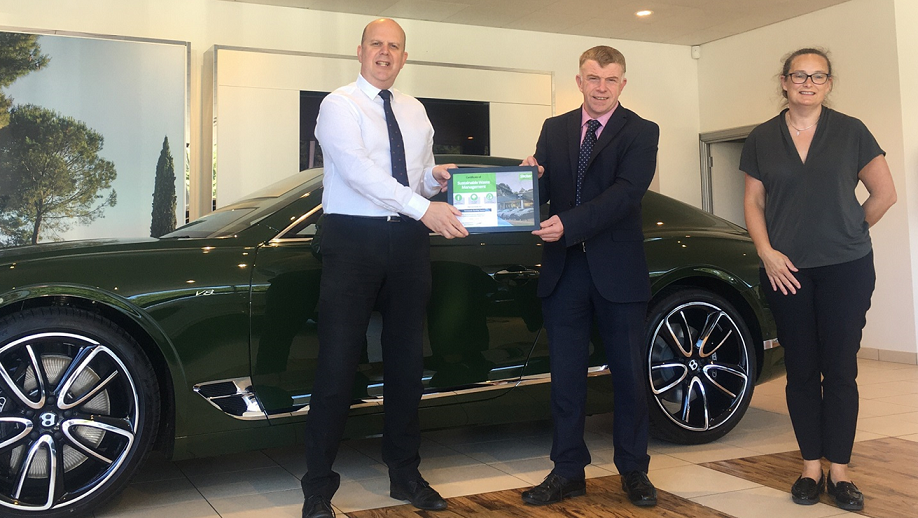 Left to right: Neil Sawyers – Bentley Sussex Aftersales Manager, Sean Thorpe – Slicker Recycling National Sales Manager, Lisa Younger - Bentley Sussex Group Procurement Manager
Leading South-East Bentley Dealership, Bentley Sussex, has made significant strides to cut their carbon emissions and increase their sustainable business practices. As part of their efforts, Bentley Sussex have partnered with waste oil industry leaders, Slicker Recycling, to stamp down their carbon footprint through their innovative, 'closed loop' waste oil solution.
Bentley's Sustainability Drive
The drive towards more sustainable business practices has been led by the luxury automotive manufacturer, which has benchmarked its associated dealerships with lofty sustainability targets, covering energy consumption, fuel usage and waste management. Harwoods' Bentley Sussex and its sister site, Bentley Hampshire, have already taken proactive strides to meet these targets, introducing eco-friendly initiatives and aligning themselves with responsible service providers.
Bentley Sussex's Slicker Solution
Through Slicker Recycling's sustainable waste management service, Bentley Sussex, and Harwoods' other dealerships, have already successfully minimised their carbon emissions. Unlike other service providers, the waste oil collected by Slicker Recycling is not burnt as fuel, instead it is re-processed back into a base oil product at Slicker's state-of-the-art re-refinery. The base oil is then used in the production of brand-new lubricating oil. This process not only contributes to a 'circular economy', preserving a finite resource, but also massively reduces the carbon emissions produced.
Neil Sawyers, Bentley Sussex's Aftersales Manager, has commented:
"It is great to be partnering with a supplier that understands our environmental commitments and works closely with us to achieve our goals. By simply utilising Slicker Recycling's services for our waste oil and other waste streams, Bentley Sussex has greatly reduced our carbon footprint and we are well on our way to meeting Bentley's sustainability targets."