We offer an efficient, reliable and cost-effective septic tank emptying service. Below our Slicker septic specialists have answered some of our customer's burning questions regarding septic tanks and how best to maintain them.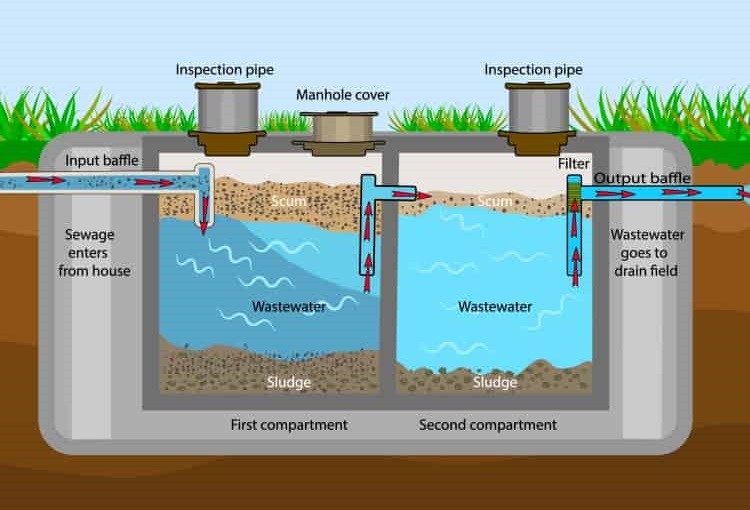 What is a septic tank?
A septic tank is used to capture small volumes of wastewater from one or several homes/businesses which do not have access to main sewerage systems.
How does it work?
A septic tank has two or three chambers which captures the solid waste. The solid waste then forms a sludge at the bottom of the tank which is broken down by bacteria. The remaining liquid is then discharged through an outlet.
Why do I need to empty my septic tank?
Most of the sludge which forms at the bottom of the tank will be broken down by the bacteria, however some of it will remain and slowly build up over time. This sludge, if not managed, will overflow and cause blockages and unpleasant odours.
How often should my tank be desludged?
This depending on the size, make and model. We recommend consulting your manufacturer handbook for guidance. As a rule of thumb however, we recommend desludging your tank when the sludge volume reaches 50% of the tank's capacity.
How do I maintain my septic tank?
Most septic tank failures occur due to poor maintenance. Because septic tanks rely on bacteria to break down waste you should also avoid pouring bleach into toilets and sinks and limit the amount of fat poured down the drain. Items such as facemasks, nappies, and paper towels should also not be flushed down the loo. You should also ensure your septic tank is emptied regularly.
What are the legal requirements for a septic tank?
Slicker Recycling offer expert advice and will ensure your waste is handled in accordance with the latest laws and regulations, we will even handle all the paperwork so you don't have to!
If you would like to learn more about the legal obligations regarding septic tank maintenance, please see https://www.gov.uk/permits-you-need-for-septic-tanks
How to book your septic tank service
To book your septic tank clearance or for more information please contact our expert team on 0330 159 8325 or email TWM@slickerrecycling.com