Book your waste oil collection today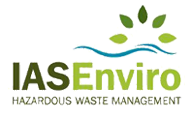 Who are IAS Enviro?
IAS Enviro is a leading environmental services contractor which provides recycling, disposal and pollution prevention solutions for businesses nationwide.
How does Slicker fit in?
Slicker Recycling works closely with IAS Enviro, offering third-party, on-demand solutions for their customers' workshop waste and waste oil collection requirements. Our national collection fleet and vast network of depots ensure we can provide IAS Enviro with a prompt reliable service wherever the customers are in the country.
Don't just take our word for it
We have been working with Slicker Recycling for a few years now. They work closely with us to ensure we meet the demand of our customers. Their reliable and prompt service is what sets them apart.

Oliver Heath, IAS Enviro